EXAflow gate inserts are standardized components for tunnel and rear surface gating applications in plastic injection moulding.
Available in diverse types and models, with different gate diameters, these products cover the broadest possible range of requirements.
Our gate inserts save you time and costs by relieving you of the need to fabricate your own sprue gating systems. Rely on our proven modular technology successfully employed by an ever growing clientele.
Perfect surface quality and concealed gate marks through tunnel and rear surface gating
Gating point may be located up to 10 mm above or below the parting line
Variable gate diameters from 0.5 to 3.5 mm
Clearly defined separating edge for precise de-gating
Save time and cost through fast & easy interchangeability
High wear resistance
Compact dimensions due to single-part design
Enhances molding process reliability
Unsurpassed balance in multiple gating applications
---
Ringelflow –

GRF-5
NEU!

(PDF-Datei, 711 KB) Download
Miniflow –

GTM closed gate diameter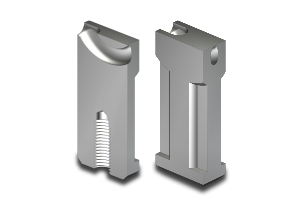 (PDF-Datei, 711 KB) Download